Q. What is the difference between 'Single Sided' and 'Double Sided Woven Edged' Satin Ribbon?
A. The style of the ribbon itself – NOT whether it's printed on one side or both.
Here is a comparison of Single Sided Satin Ribbon and Double Sided Woven Edged Satin Ribbon to help you choose your ribbon:
Single Sided Satin Ribbon
Double Sided Satin Ribbon
Appearance
 – Shiny on one side, matt on the other (hence 'single sided')

– Heat sealed cut edge

– Shiny on both sides ('double sided')

– Very soft & luxe feel

– Traditional woven edge

Features
– Manufactured from wood pulp from certified plantations, with a sustainably
optimized, low-impact manufacturing process. The resulting material is 59% Biobased
as certified under the USDA BioPreferred Program, with the yarn
holding independent certifications from TUV Austria regarding its ability to
biodegrade in soil and water environments.- Slightly cheaper- Matt side provides good grip for bowing – especially for wider widths eg 36mm & 48mm
– Luxurious upmarket finish

– Strong & durable

– Woven edge provide extra stability for very narrow ribbon eg 7mm & 10mm

– For an eco version of this ribbon, see our Recycled Woven Edged Satin Ribbon

Print Quality
Very Good
Excellent
PMS Matching
No
Yes (10 x 100m roll minimum)
Minimum Order
1 roll (100m)
 1 roll (100m)
Generally we only print on one side of any sort of ribbon (though if you need both sides printed, call us for a chat), so the terms 'single sided' or 'double sided' refer to features of the ribbon itself, not what is printed on it.
Which type of satin ribbon you choose will depend on the look your branding requires and the use you have in mind.
Here are some more side by side comparisons: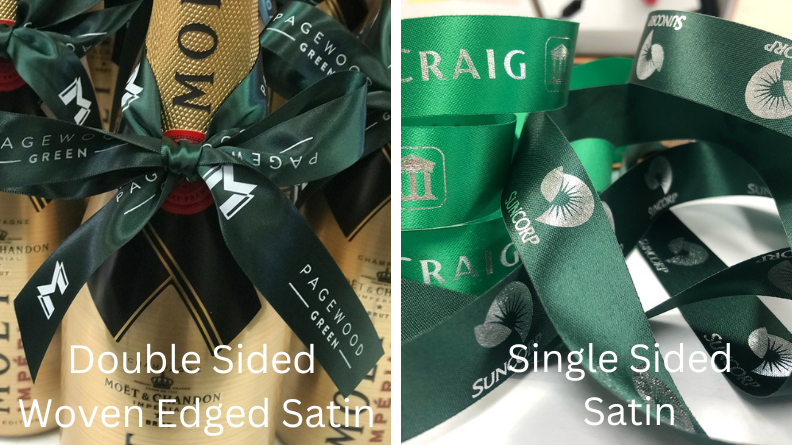 If you have any question or to place your order or click on sales@australianprintedribbon.com.au to email us. Click on 03 9544 0034 to call us if you have any question or click on sales@australianprintedribbon.com.au to email us.